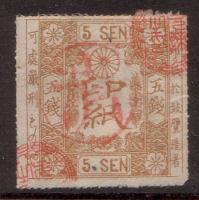 The document revenues from 1873 are hand-engraved and came out when the stamps was also hand engraved. They are very often found in old collections of stamps. In the corners are cherry blossoms. The chrysanthemum symbol is found on the low values. On the high values are found two banners - at the left the moon banner and at the right the sun plume banner. These banners was used in the coronation ceremony for the emperor in Kyoto. The revenues have an inscription in Japanese warning that forgeries will be severely punished. This series was in use to 1883. The 5 and 20 yen are diffucult to find.

Values 1 sen, 5 sen, 10 sen, 10 sen, 25 sen, 50 sen
Values 50 sen, 1 yen, 1 yen, 50 sen, 1 yen
The series is found imperforated and perforated from 8 to 13. Pictures below. Different types of paper ware also used. The first was printed on Japanese paper. The document series came in a number of prints with values of:
1 sen gray, 1 sen black
5 sen orange, 5 sen brown
10 sen red, 10 sen carmin, 10 sen blue
25 sen yellow
50 sen orange, 50 sen gray
1 yen red, 1 yen light blue
5 yen violet
20 yen dark red
Shimomura 2003 page 5-7
Furuya 2011 page page 15-48. In this catalogue is much more information on different paper types and printings than Shimomura. Many values can be divided in different types and different etching varieties is shown.
| | | | |
| --- | --- | --- | --- |
| Value | Rouletted | perforate 9 | perforate app. 12 |
| 1 sen gray | | | |
| 5 sen brown/ orange | | | |
| 10 sen red/carmin | | | |
| 10 sen blue | | | |
| 25 sen yellow | | | |
| 50 sen orange | | | |
| 50 sen green gray | | | |
| 1 yen red | | | |
| 1 yen light blue | | | |
| 5 yen violet | | | |
| 20 yen dark red | | | |