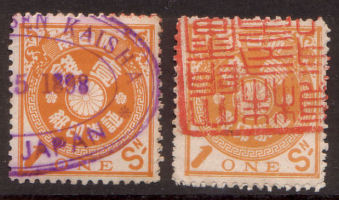 The document revenues are from 1883. The chrysanthemum symbol is found in the center of the low values and in the top of the high values. The circular inscription in 4 characters is "shoken inshi" - document revenue and the value is given as Japanese numbers. There is variation in the design of the corners and the stars in the inner circle. For the 10 sen value the sun and the moon are used as symbols. The series from 1883 are perforated 9-10. The series from 1889 are perforated 12-13.
NOTE: These revenue can look like medicine revenues.

Values 5 rin, 1 sen, 2 sen, 5 sen, 10 sen

Values 25 sen 50 sen, 1 yen
The perforation is from 8 to 14. The series consists of:
5 rin brown
1 sen yellow
2 sen gray
5 sen blue green
10 sen violet
25 sen blue
50 sen gray black
1 yen red
Shimomura 2003 page 7-8. Shows different paper types
Furuya 2011 page 49.