This is tax revenues "shunyu inshi" from 1898 to 1909. This has some resemblance with the Koban stamp series. The values up to 5 rin show a simplified Japanese plum flower "ume". The values 1 sen to 10 sen shows a design with a vine scroll "karakusa". The values from 50 sen to 5 yen shows a fan "uchiwa". 5 yen also shows a "karakusa" design. The high vales show a portrait of the legendary figure Takenouchi no Sukune. He was the first prime minister in Japanese history.
They are also found with watermark from 1915-1919 in the values from 1 rin to 5 sen.
Similar revenues were used in China, Korea and Manchuria. They have an overprint consisting of two characters for the area names. See examples on a page about Korea and China. These overprinted series are difficult to find.

Values 1 rin, 2 rin, 3 rin, 5 rin

Values 1 sen, 2 sen, 3 sen, 5 sen, 10 sen, 50 sen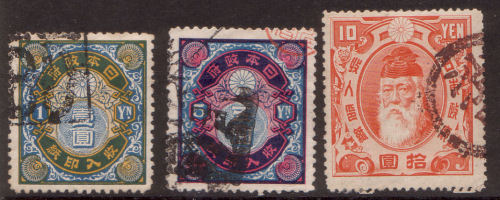 Values 1 yen, 5 yen, 10 yen
Perforation 12 to 13.5. The series consists of::
1 rin green
2 rin yellow
3 rin blue
5 rin light brown
1 sen blue
2 sen green
3 sen brown
5 sen dark blue
10 sen carmine
50 sen green and red
1 yen blue and yellow
5 yen blue and red
10 yen orange - portray
50 yen blue - portray
100 yen violet - portray
Shimomura 2003 page 26-27
Furuya 2011 page 68-76